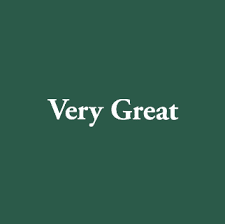 VP of Sales
Very Great
Closing: This role has no specific closing date.
Role posted - 8:06pm, 2nd May 2022 EDT
Job Description
About Us
Very Great is a digitally-native consumer product platform and holding company, growing a family of real, crave-worthy brands for a new generation. Based in New York City, Very Great is powered by a technology-enabled growth infrastructure that spans supply chain, creative, marketing and sales, all designed to rapidly develop, launch and scale modern consumer product brands. The current family of brands includes W&P, Courant and Wild One, with future brand launches currently under development.
About the Role 
We're looking for an experienced and highly motivated VP of Sales to lead our rapidly growing wholesale business across our portfolio of brands. You will lead the Sales team, planning, managing, and expanding the Mass, Major, Independent, International and Custom channels. The ideal candidate has a proven track record of working with high growth consumer product brands and has experience managing and scaling across all sales channels. This role will partner with several internal teams to ensure sales and brand goals are achieved across each of our brands.
You have strong organizational and presentation skills, keen attention to detail, a passion for idea sharing and enjoy a highly collaborative, fast-paced environment. This role contributes to the success of the entire Very Great organization by strategically expanding our retail base, deepening existing relationships and executing on opportunities for brand expansion and diversification.  We look for teammates who are curious and kind, and who will challenge us at every turn — asking the tough questions and determined to find the ideal solutions.
 This role reports to Eric Prum, our Co-CEO at Very Great; and can be fully remote (US-based) or work in NYC (coworking spaces available).
Responsibilities
Build the 5+ year Sales strategy for each brand ensuring they are set-up for rapid growth with a clear path to success

Create and execute an annual sales strategy and budget for each brand across a portfolio of retailers and lead the sales team to achieve and or exceed these results

Work closely with the Planning team to provide a monthly demand forecast to ensure inventory is being purchased to support the sales growth

Ideate and develop a launch strategy to expand the Very Great brand presence in new channels of business – whether it be direct or in partnership with Reps/Distributors

Partner with key retailers to support their purchasing plans, share new products, and develop digital marketing strategies

Manage a team of sales professionals and support them to meet and exceed their sales objectives

Manage the business profitably and continually assess project value relative to workload contribution. Negotiate terms and conditions to remain competitive and protect company profitability

Collaborate with brands on new opportunities, product development and launch partnerships on a regular basis

Partner with internal operations and logistics teams to align on important launch timelines and ensure all opportunities are activated
About You
Minimum of 10+ years of Sales leadership experience in the consumer product industry

Extensive experience with account ownership, negotiation, brand management and portfolio development across Channels

Strong organizational skills, flexible attitude, attention to detail, aptitude for working with many people and the ability to manage a rapidly changing environment

Self-starter, professional and leads with a positive attitude

Natural collaborator who can effectively build, nurture, and maintain strong relationships internally and externally

Experienced manager who enjoys mentoring and coaching talent at various career levels

Excellent verbal and written communication skills and adept with Microsoft Suite

Passionate about the Very Great Mission: helping bring more thoughtfully designed products to unmet consumer needs
Removing bias from the hiring process
Your application will be anonymously reviewed by our hiring team to ensure fairness
You'll need a CV/résumé, but it'll only be considered if you score well on the anonymous review
Removing bias from the hiring process
Your application will be anonymously reviewed by our hiring team to ensure fairness
You'll need a CV/résumé, but it'll only be considered if you score well on the anonymous review