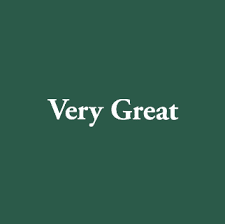 Planning & Strategy Associate
Very Great
Closing: This role has no specific closing date.
Role posted - 9:25am, 20th May 2022 EDT
Job Description
About Us
Very Great is a digitally-native consumer product platform and holding company, growing a family of real, crave-worthy brands for a new generation. Based in New York City, Very Great is powered by a technology-enabled growth infrastructure that spans supply chain, creative, marketing and sales, all designed to rapidly develop, launch and scale modern consumer product brands. The current family of brands includes W&P, Courant and Wild One, with future brand launches currently under development.
Wild One is a lifestyle brand that makes beautifully designed, functional pet essentials for our best friends. We design and distribute a wide variety of innovative products that will make your morning walks, subway commutes, and park visits easier and more enjoyable for you and your dog. Wild One launched in the fall of 2018, and since then, we've run a pop-up shop in the heart of Nolita, created the go-to brand destination for today's pet parents, partnered with key retailers including Petco, Target, Nordstrom, and more.
About the Role
Wild One is excited to welcome a Strategy & Planning Associate to its growing team. This core team member will support Wild One's CEO and leadership team in facilitating and managing strategic planning for the business, planning and project managing high-impact initiatives and designing and owning the processes that enable the leadership team to be effective in their roles. Our ideal team member is a self starter, creative problem solver, and collaborative strategic partner. You love a good challenge and know how to effectively manage projects end-to-end even when obstacles arise. You are an exemplary communicator who thrives in a fast-paced environment and is able to shift seamlessly between big picture thinking and detailed execution.
This position will be remote or NYC based and will report to Bill Wells, Co-Founder & CEO.
Responsibilities 
Facilitate and manage strategic planning for the business alongside the executive team, including annual goal setting, metrics analysis, and prioritization of strategic initiatives

Plan and coordinate meetings on key projects and initiatives, gathering critical information and feedback, conducting data analysis and following-up on action items and next steps

Spearhead special projects and long-term initiatives from ideation and planning to implementation and steady-state management 

Create, develop, and improve internal and external processes, streamlining tasks, prioritizing weekly meetings and agendas, and identifying opportunities to increase leadership team effectiveness

Collaborate with the platform sales, creative, growth, planning, finance, and people teams on cross-functional projects, deadlines, and deliverables 

Own and measure company-wide milestone metrics, performing ad hoc analysis, cost-benefit comparisons, and other data exercises to derive insights and aid in decision making 

Manage and prioritize inbound requests to the leadership team, enabling leadership to be focused on the opportunities with the biggest impact on the business
About You
2-4 years experience in Management Consulting or Business Operations

Self-starter who is highly motivated, detail oriented and can work independently to complete projects within requested timelines

Strategic and curious thinker who is creative in solving complex problems and laser focused in their research, analysis and presentation of their work

Intentional and disciplined in your approach to your work, especially in management of projects and follow-up

Hyper organized and has a proven ability to track, prioritize and drive multiple concurrent projects to successful outcomes

Highly collaborative team player who values and nurtures strong relationships

Adept written and verbal communicator who can translate concepts and outcomes into digestible insights and recommendations

Experience using data and metrics to analyze performance and drive strategic decision making

Versatile, flexible and dedicated to efficiency and productivity
Removing bias from the hiring process
Your application will be anonymously reviewed by our hiring team to ensure fairness
You'll need a CV/résumé, but it'll only be considered if you score well on the anonymous review
Removing bias from the hiring process
Your application will be anonymously reviewed by our hiring team to ensure fairness
You'll need a CV/résumé, but it'll only be considered if you score well on the anonymous review