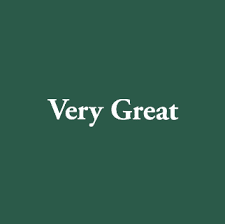 Founder, New Wellness CPG Brand
Very Great
Closing: 8:37am, 26th Apr 2022 EDT
Role posted - 10:39am, 19th Jan 2022 EST
Job Description
About Us
Very Great is a digitally-native consumer product platform and holding company, growing a family of real, crave-worthy brands for a new generation. Based in New York City, Very Great is powered by a technology-enabled growth infrastructure that spans supply chain, creative, marketing and sales, all designed to rapidly develop, launch and scale modern consumer product brands. The current family of brands includes W&P, Courant and Wild One, with future brand launches currently under development.
About the Role
We're looking for an exceptional start-up Founder to lead a new digitally-native wellness CPG brand. The new brand's launch will mark the establishment of the fourth brand in the highly successful Very Great portfolio. This is an exciting, career-defining opportunity to get involved at the ground level and lead the launch and scale of a new highly differentiated wellness CPG brand aimed at Millennial consumers. While this role is highly entrepreneurial, it also comes with the benefit of having support from the Very Great platform, which includes centers of excellence in supply chain, creative production, growth marketing, PR, wholesale sales, HR and finance. 
The ideal candidate is an entrepreneur and leader with past early stage leadership experience with a high-growth start-up or leading a consumer products business unit within a larger corporation. This candidate has a proven track record of building successful physical consumer products and teams from the ground up. We look for teammates who are curious and kind, and who will challenge us at every turn — asking the tough questions and determined to find the ideal solutions. 
This position will be remote or NYC based and will report to Josh Williams, our Co-CEO. 
Note: We are happy to share more details on the specific brand positioning and early traction to date after an NDA is in place with candidates. 
Responsibilities
Set the vision for the company, and define the overall strategy from launch to rapid scale, and long-term goals and strategies

Laser focused and motivated execution of an ambitious plan to drive significant, rapid growth 

Collaborate with platform leadership on financial structure and capital strategy

Lead and direct early stage product development and vision using lean processes, technology, and modern approaches to consumer digital engagement.

Oversee key areas including Product & Merchandising, Site Design & Development, Supply-Chain and Fulfillment, Customer Experience and Marketing.

Drive customer research and insights work to deeply understand key customer segments and target markets

Attract and retain a team of excellent talent over time

Cultivate a high-performing, one-team culture across platform leadership, platform centers of excellence and across functions within the wellness brand team

Evangelize company vision and strategy in the market, and communicate to employees and stakeholders, serving as key external spokesperson

Communicate regularly to Very Great platform leadership and team regarding progress on strategic priorities

Drive day-to-day operations and continuous improvement

Proactively mitigate business, operational & compliance risks

Continue to develop the business model and product roadmap ahead of the market
About You
Visionary startup founder profile with ability to guide a company through phases of growth

Start-up leadership experience (5+ years; within last 7 years); prefer early-stage growth company in DTC consumer product space

Proven track record of building successful products (been through $1-15M+ growth stage)

Proven track record of building high caliber teams from ground up, ideally in current role, with a focus on developing early stages of product

3-4 years of experience of P&L responsibilities at Founder/CEO/VP/Director level, leading build of a business, or head of significant business unit

At least 1-2 years exposure to working in the health/wellness or beauty CPG industry

Experience in an omnichannel (DTC + Amazon + Retail) consumer environment

Passion for the health and wellness category
Removing bias from the hiring process
Your application will be anonymously reviewed by our hiring team to ensure fairness
You'll need a CV/résumé, but it'll only be considered if you score well on the anonymous review
Applications closed Tue 26th Apr 2022
Removing bias from the hiring process
Your application will be anonymously reviewed by our hiring team to ensure fairness
You'll need a CV/résumé, but it'll only be considered if you score well on the anonymous review