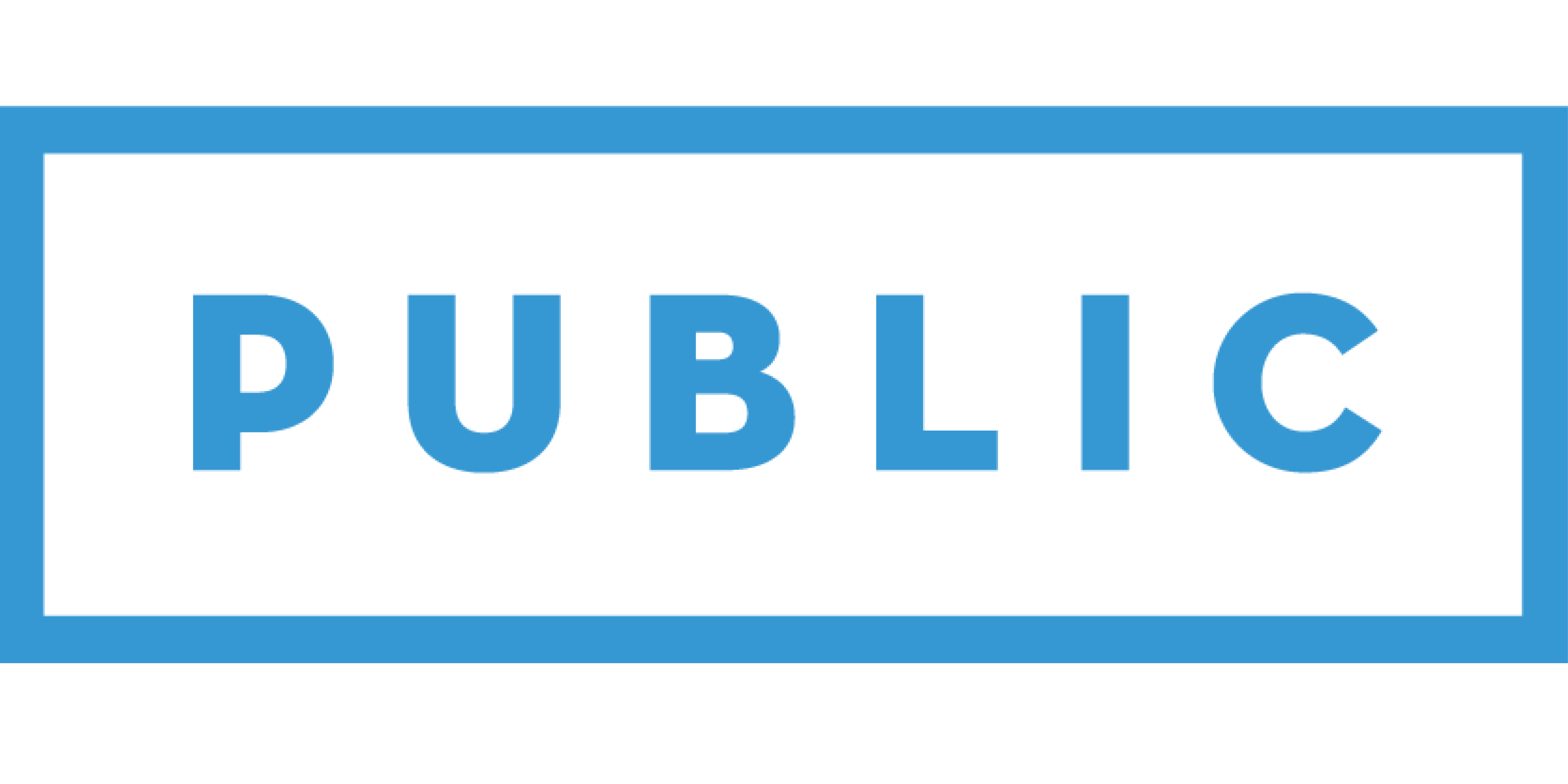 Marketing Associate
Public Group International Ltd
Closing: 11:59pm, 9th Apr 2023 BST
Job Description
PUBLIC is committed to building a diverse and inclusive workplace. We are an equal opportunity employer and welcome applicants of all different backgrounds, experiences, and perspectives. Candidates from non-traditional backgrounds and underrepresented groups are strongly encouraged to apply. For this reason, we are using the Applied platform to hire candidates for this role, allowing us to blind review your application during the initial stages, with questions designed to allow you to showcase your full potential.
The Role
PUBLIC is a fast growing company helping the government to work with the latest and best technology. Creative and compelling forms of digital content have always been at the heart of PUBLIC's marketing strategy, we consistently exceed our competitors and impress our clients with the level of creativity and flair that goes into curating materials for our campaigns - traditionally through social media but more recently our sector-specific newsletters, thought leadership pieces and our website.
As a Marketing Associate, you will own the development and execution of the digital content strategy for PUBLIC's growing channels and ensure that they are consistently updated with engaging content such as graphics, videos and thought leadership pieces. You will be tasked with creatively designing factual and exciting multimedia content, tailored to each campaign. With a special focus on digital storytelling and the creation of versatile assets, you'll be responsible for curating content with a high level of attention to detail, ensuring it effectively targets PUBLIC's core audiences across areas of the public sector such as Health, Privacy & Security, Procurement and Climate. 
We are looking for a talented and ambitious individual who can work closely with the Senior Marketing Associate to plan, develop and deliver strategic marketing campaigns in line with our PUBLIC brand identity. The role will require a creative and innovative approach to designing new forms of digital content, ensuring our channels are consistently growing and attracting new audiences from across the public sector. Working closely with the team, you'll have the opportunity to plan, write and publish regular blogs, SEO content and thought leadership pieces writing both short and long form copy for PUBLIC's digital channels. Through designing and implementing multi-channel tailored marketing campaigns, you'll be involved in all stages from communications planning, to content creation and all the way through to monitoring and evaluation of campaigns using analytics to make informed proposals on areas of focus & improvement for the marketing team. 
Responsibilities include:
Owning the development and execution of strategic digital content for PUBLIC's marketing campaigns, ensuring that channels are consistently updated with tailored and engaging content;

Creatively curating and designing digital assets such as graphics, videos and thought leadership pieces with a high level of attention to detail, ensuring that content effectively targets PUBLIC's core audiences;

Applying growth marketing tactics to ensure the following of PUBLIC's marketing channels is consistently expanding by coming up with new and innovative forms of content to attract new audiences;

Striving to improve campaign impact through the evaluation of performance, providing accurate reports and analysis for the team that are clear and actionable and using analytics to make informed proposals on areas of focus & improvement for the marketing team (types of content; most effective channels);

Responsible for building, publishing and monitoring email campaigns and newsletters such as the bi-weekly PUBLIC newsletter, using analytics to regularly report on performance and actively inform content development;

Responsible for drafting creative digital content plans in line with PUBLIC's broader marketing strategy and ensuring that strategic digital content is included for each campaign;

Applying digital storytelling to all aspects of copywriting, working closely with the team to plan, write and publish both short and long form thought leadership pieces for PUBLIC's marketing channels

Working alongside the Senior Marketing Associate to ensure content is consistently targeted towards prospective clients and customers, translating case studies and projects into valuable sound bites suitable for our marketing channels

Working alongside PUBLIC's Comms and Marketing Leads to support on project and client work where appropriate.
Who we are looking for:
We are looking for a creative and proactive individual, who can handle a busy schedule and enjoys working collaboratively and learning at pace in live environments. 
We're not looking for someone who has considerable experience in this area specifically, however the ideal candidate will be an excellent communicator and influencer, with imaginative ideas for how to create engaging digital content and their finger on the pulse for the latest social media and marketing trends. 
We are looking for a team player with a professional demeanour - someone who enjoys being part of an enthusiastic, business-oriented and committed team. Must be driven and able to work with a sense of urgency and resourcefulness, and be able to immerse yourself in new industries quickly. A keen eye for design and demonstrable attention to detail is necessary for this role and we will work with you to put in place learning and development opportunities to set you up for success.
Essential skills:
The ability to work as part of a team in a dynamic and fast-paced environment

Strong written English and excellent attention to detail

Experience managing or curating content for social media accounts

Experience writing marketing copy and/or writing articles/blog posts

Experience using design techniques or design software to create graphics - (Adobe InDesign, Canva or equivalent)

Experience using email marketing tools such as mailchimp, sendgrid or equivalent

Experience using website building tools such as Webflow or equivalent

Experience gathering data and analytics using tools such as Google analytics

Creative, high energy, innovative
Desirable skills:
An interest in politics, technology or improving public services
What don't you need
A traditional educational background - we are looking for people with the right attitude and a willingness to learn
This role is based in the United Kingdom, and as such starting employment will be conditional on the successful candidate's Right to Work in the UK. For those otherwise eligible to obtain the Right to Work in the UK, we offer the facility to borrow up to £2,000 towards visa-related expenses.
Salary and benefits
Salary for this position will be £30,900 - £36,050 per annum.
Like the rest of the company, you'll benefit from:
Company pension scheme

Discretionary bonus scheme

25 days per year, increasing one day per year up to a maximum of 30 days (in addition to bank holidays)

Investment in your learning & development: 6 days of paid L&D leave per year and a £300 per year learning budget to keep on building your skills through our learning platform, Learnerbly.

A 'Wellness Budget' of £300 a year to spend on things that support your wellness, such as gym membership, yoga, mindfulness or whatever works for you. 

Mental Health support - via our EAP, Lifeworks. 

Access to discounts & financial support using our EAP, Lifeworks & Charlie HR

A Cycle to Work Scheme - giving you a tax efficient way to get a new bike.

A work MacBook, and a £300 "working from home" budget to make sure you have all the equipment you need to work safely when you're not in the office.

Flexibility to work up to 20 days per calendar year outside of the country in which you are employed. 

Hybrid working flexibility which can be agreed with your line manager when you start.

Community groups such as Women at PUBLIC, Parents and Carers, LGBTQ+, Race & Ethnicity Group.

Regular All Team socials and other team-led events.
About PUBLIC
PUBLIC helps reimagine and build digitally-enabled public services. We started life as an accelerator and investor and have evolved to become Europe's leading government-focused technology company. 
Our mission is to help public sector bodies transform the services they offer in order to create a better society for everyone. We strongly believe that public service can be pursued both inside and outside of government. 
Led by Daniel Korski, ex-deputy head of the No.10 policy unit and venture investor Alexander de Carvalho, PUBLIC is a 'policy-to-product' business - keen on shaping policy, transforming systems and finding and developing the products that can bring the policy to life. 
We built PUBLIC amidst Europe's startup ecosystem, helped shape "GovTech" into a critical sector and firmly believe new companies are critical to government transformation, from welfare policy, through online harms to climate change. 
Our London home is PUBLIC Hall, a buzzing co-working space in the centre of Westminster; in Berlin we co-founded the government's GovTech Campus. We continue to foster these communities, support innovators and provide the public sector with easy access to a pipeline of innovative solutions.
Removing bias from the hiring process
Applications closed Sun 9th Apr 2023
Removing bias from the hiring process
Your application will be anonymously reviewed by our hiring team to ensure fairness
You'll need a CV/résumé, but it'll only be considered if you score well on the anonymous review
Applications closed Sun 9th Apr 2023