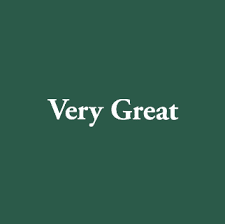 Chief Financial Officer
Very Great
Closing: This role has no specific closing date.
Role posted - 12:33pm, 19th May 2022 EDT
Job Description
About Us
Very Great is a digitally-native consumer product platform and holding company, growing a family of real, crave-worthy brands for a new generation. Based in New York City, Very Great is powered by a technology-enabled growth infrastructure that spans supply chain, creative, marketing and sales, all designed to rapidly develop, launch and scale modern consumer product brands. The current family of brands includes W&P, Courant and Wild One, with future brand launches currently under development.
About the Role
We are seeking an exceptional and dynamic Chief Financial Officer to join the Very Great leadership team and help scale the company in our next phase of growth. The ideal candidate is someone highly strategic, analytical and operational, with experience leading the financial strategy and operations of a high growth company in the consumer products industry. The CFO will have primary responsibility for financial planning and management of all financial-related activities of the organization. This includes responsibility for accounting, audit, finance, forecasting, strategic and financial planning, banking and lender relationships, investor and board reporting, deal analysis, and vendor relationship management. The CFO will be responsible for leading and mentoring our finance team as well as serving as a business and thought partner to our Co-CEO's and other leaders across the organization. 
This position will be remote or NYC based, and will report to Josh Williams, our Co-CEO.
Responsibilities
Work in partnership with Very Great's Co-CEO's to develop the company's financial strategy and execute on that vision

Develop and mentor the finance team, managing work allocation, training, performance evaluation, and building of a highly effective team 

Design forward-looking, predictive models and financial analysis to provide insight into the organization's operation and business plans

Develop and help implement plans for growth to increase company revenue and improving profitability

Critically assess performance of the business and key initiatives against budget and outlook, providing leadership and guidance to business colleagues to help achieve targeted results, address risks, and capitalize on opportunities

Prepare and maintain regular financial reports, including monthly/quarterly/annual financials by division, for both internal purposes and external investors, lender and board of directors reporting

Lead day-to-day cash management and finance operations

Oversee demand and inventory planning team

Take an active leadership role in future equity and debt fundraises 

Develop and manage all bank and lender relationships for the company

Lead annual budgeting process across the Platform and Brand teams 

Lead the diligence and evaluation of potential acquisition opportunities

Identify opportunities for process improvement and drive for operational, financial and technology excellence
About You
12+ years of finance experience with increasing responsibility and leadership

3+ years of experience as a CFO (or equivalent) in the consumer products industry (or related field); startup experience preferred

College degree and MBA required

Strong background in auditing, finance, budgeting, cash management, supply chain/manufacturing requirements

Excellent financial modeling skills

Experience in successfully leading a company through equity fundraising (Series B+)

Experience in negotiating and managing debt facilities (ABLs, term loans)

Experience designing, setting up, and implementing a financial ERP

Experience with supply chain finance

M&A transaction experience preferred 

Comfortable with ambiguity and take initiative to lead projects

Hard working and willing to roll sleeves up - no job is too big or too small

You have an entrepreneurial spirit. You thrive as a problem-solver in a dynamic, fast-paced, fluid environment building process, structure and systems
Removing bias from the hiring process
Your application will be anonymously reviewed by our hiring team to ensure fairness
You'll need a CV/résumé, but it'll only be considered if you score well on the anonymous review
Removing bias from the hiring process
Your application will be anonymously reviewed by our hiring team to ensure fairness
You'll need a CV/résumé, but it'll only be considered if you score well on the anonymous review