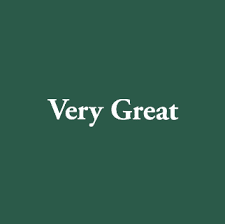 Lifecycle & Email Marketing Manager
Very Great
Employment Type
Full time
Location
Hybrid · New York, USA
Closing: 5:00pm, 31st Aug 2023 EDT
Job Description
About Us
Very Great is a digitally-native consumer product platform and holding company, growing a family of real, crave-worthy brands for a new generation. Based in New York City, Very Great is powered by a technology-enabled growth infrastructure that spans supply chain, creative, marketing and sales, all designed to rapidly develop, launch and scale modern consumer product brands. The current family of brands includes W&P, Courant and Wild One, with future brand launches currently under development.
About the Role
Very Great is seeking a Lifecycle & Email Marketing Manager to join our Growth team. If you are looking for the opportunity to grow and engage audiences with fashion forward pet owners, design-loving wireless charging consumers and customers who crave sustainable kitchen essentials, this is the role for you!
As our Lifecycle & Email Marketing Manager, you will play a key role in shaping the end-to-end customer journey, developing customer retention and loyalty strategies that will maximize growth for our  direct-to-consumer business. Our ideal candidate will bring an entrepreneurial and tactical mindset to this role, embracing experimentation and new innovations that drive to business goals. You will bring demonstrated knowledge in customer retention and lifecycle best practices and an understanding of consumer behavior. 
This role reports to the VP of Growth and is based in NYC
Responsibilities
Plan, develop and drive the implementation of our CRM strategy to support and achieve our brands' DTC objectives 

Coordinate flawless and timely execution of Email + SMS campaigns from start to finish and collaborate with the brand marketing and creative teams on creative briefs, asset development and approvals, customer segmentation, template design, QA, and deployment

Collaborate with marketing teams to determine key marketing moments and messaging for CRM channels, reinforcing brand marketing and e-commerce retail moments across multi-channel communications

Execute ongoing data analysis in partnership with our data analyst to identify customer trends, behaviors and opportunities for improvement. Develop actionable steps and partner closely with cross-functional teams to share insights and apply learnings to future campaigns

Collaborate with CX team to evolve and improve CX practices with the aim of improving retention and brand/community engagement

Conduct A/B testing and analyze results to grow and optimize our CRM initiatives and campaigns. Partner with cross functional team members to make recommendations for campaigns & flow optimization

Design and test new loyalty and membership programming and curate unique opportunities for loyalty members on an ongoing basis

Drive website personalization efforts using strategic customer segmentation

Support site-wide seasonal and promotional events and develop our toolkit of evergreen promotions and offers to incentivize and reward customers for repeat purchasing
About You
2-4 years of relevant marketing experience, specifically in the email and SMS space

Deep understanding of the customer journey (ideally within the e-commerce vertical) and how to develop experiences that influence buying behaviors

Highly analytical, knows how to interpret and translate data into actionable insights and next steps 

A creative problem solver who can think outside the box when developing ways to improve customer retention -- loves researching and testing new methodologies

Thrives in a fast-paced start-up environment and is motivated to exceed business goals and grow in their role

Has a knack for planning and project management -- ability to oversee the various cross-functional processes involved in planning, managing, and optimizing ongoing customer retention channels and tactics

Ability to clearly and effectively communicate and collaborate with cross-functional teams and external business partners

Values learning and hands-on experiences -- not afraid to try new things, run experiments, own both strategy development and execution, and participate across other areas of the business to help drive growth
Total Rewards Package
The annual base salary range for this position is between $80,000 - $100,000
In addition we offer a comprehensive suite of benefits and perks including:
401(k) with company match

Employee stock ownership plan (ESOP)

Comprehensive health insurance (Medical, Dental & Vision)

Hybrid working: remote-first with NYC-based office space

Parental leave (16 weeks for primary caregiver) & flexible back-to-work planning

Team outings & virtual events

Sabbatical program

Employee product discounts!
Very Great is an Equal Opportunity Employer and does not discriminate against applicants based on race, religion, color, disability, medical condition, legally protected genetic information, national origin, gender, sexual orientation, marital status, gender identity or expression, sex (including pregnancy, childbirth or related medical conditions), age, veteran status or other legally protected characteristics. 
Thanks for applying! We're excited to connect!
Removing bias from the hiring process
Applications closed Thu 31st Aug 2023
Removing bias from the hiring process
Your application will be anonymously reviewed by our hiring team to ensure fairness
You'll need a CV/résumé, but it'll only be considered if you score well on the anonymous review
Applications closed Thu 31st Aug 2023