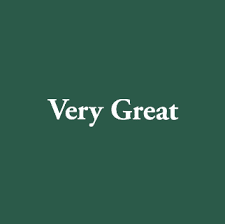 VP of Marketing - Wild One
Very Great
Closing: This role has no specific closing date.
Role posted - 1:38pm, 5th May 2022 EDT
Job Description
About Us
Very Great is a digitally-native consumer product platform and holding company, growing a family of real, crave-worthy brands for a new generation. Based in New York City, Very Great is powered by a technology-enabled growth infrastructure that spans supply chain, creative, marketing and sales, all designed to rapidly develop, launch and scale modern consumer product brands. The current family of brands includes W&P, Courant and Wild One, with future brand launches currently under development.
Wild One is a lifestyle brand that makes beautifully designed, functional pet essentials for our best friends. We create a wide variety of innovative products that will make your morning walks, subway commutes, and park visits easier and more enjoyable for you and your dog. Wild One launched in September 2018. Since then, we've run a pop-up shop in the heart of Nolita, created the go-to brand destination for today's pet parents, partnered with key retailers such as Petco, Target, Nordstrom, and more. 
About the Role
As the VP of Marketing at Wild One, you will be developing and driving our comprehensive omnichannel marketing strategy across owned, performance, and retail channels, with the goal of scaling our brand. We are looking for a marketing leader with a proven track record of growing and managing high performing teams and cross-functional partnerships to deliver high impact innovation and go-to-market activations across all channels. This role will approach marketing strategy in a way that aligns our marketing strategy and tactics with our business objectives across all marketing and sales channels. Our ideal candidate is a practiced leader who can balance the execution and strategic elements of our short and long term objectives. You are passionate, curious, a talent nurturer, and an effective communicator. 
This role reports to the CEO and Co-Founder of Wild One and can be based anywhere in the US. 
Responsibilities
Define, drive and deliver strategic marketing objectives to scale the business: drive revenue growth, sharpen competitive edge, and gain market share 

Create and execute integrated marketing campaigns, programs and strategies that will acquire, engage, and retain customers across all sales channels including, e-commerce, wholesale, Amazon, and retail

Guide and enhance Wild One's visual and experiential brand identity and voice

Cultivate a best-in-class e-commerce experience through design, content and web development

Advise on performance strategies, surfacing opportunities to strengthen campaigns, and develop impactful creative content that drives conversion and promotes a consistent voice across all sales channels

Leverage data, our customer base, and other research sources and methods to derive in-depth consumer insights and shopping behaviors to shape our product offerings and messaging

Manage the overall marketing budget with an emphasis on prioritizing and allocating resources and media effectively 

Partner with our Sales team to effectively and consistently convey our brand story and positioning to wholesale and retail partners across the globe. Develop effective in-store merchandising and marketing programs

Establish strategic partnerships and collaborations, and develop word-of-mouth opportunities to increase awareness and build brand equity
About You
10+ years of marketing leadership experience in a high growth, omnichannel consumer product brand 

Possess a well rounded toolkit of tried-and-true marketing tools, strategies, and tactics, combined with a knowledge of how and when to apply them 

Direct experience in developing comprehensive mass retailer sell-in and sell-through strategies in a physical shopping environment

Strategic & practical with the ability to develop and bring to life, brand building ideas that are consistent with our overarching brand story 

On the cutting edge of new marketing channels and technologies, with a framework to test and apply them to our business in a creative and rigorous manner

Strong interpersonal, pitching and presentation skills with the ability to powerfully share the brand story to any audienceIn-depth experience with online marketing channels (paid search, email, online marketing) and data analytics including  search, web, and other areas 

A disruptor who understands the CPG world but has a desire to break the mold and build challenger brands

Desire to work in a rapidly changing, start-up environment that requires both long-term strategic thinking and near-term execution

Passionate about pets, pet ownership, and the mission of Wild One
Removing bias from the hiring process
Your application will be anonymously reviewed by our hiring team to ensure fairness
You'll need a CV/résumé, but it'll only be considered if you score well on the anonymous review
Removing bias from the hiring process
Your application will be anonymously reviewed by our hiring team to ensure fairness
You'll need a CV/résumé, but it'll only be considered if you score well on the anonymous review