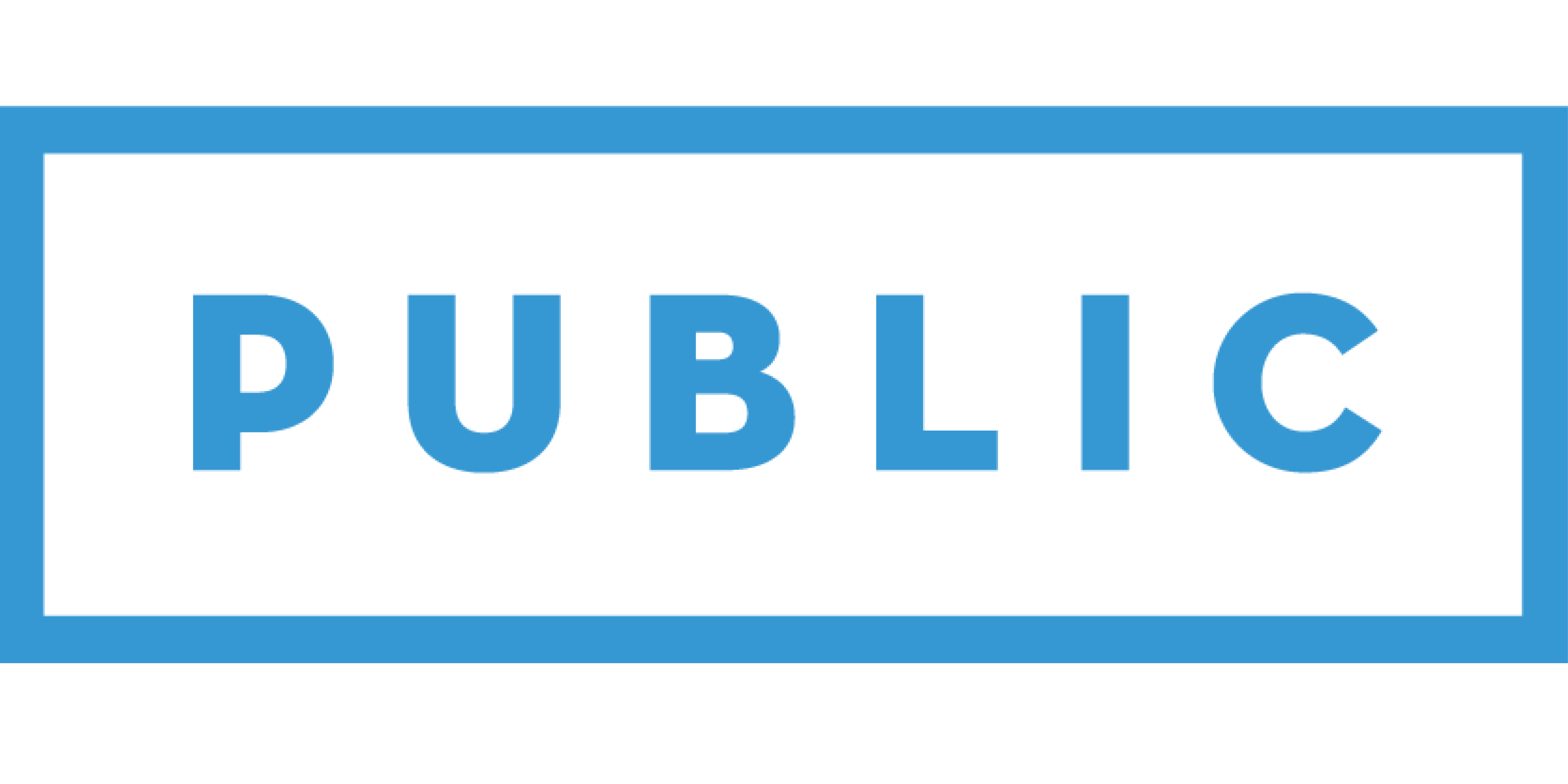 Head of Communications
Public Group International Ltd
Team: External Affairs
Salary: Circa £40,000 dependant on experience
Location: London (currently remote)
Closing: 11:59pm, 25th Apr 2021 BST
Role posted - 10:29pm, 7th Apr 2021 BST
Job Description
Please note that we will sift applications as they come in; if we find the right candidate, we will close the applications before the deadline. We therefore encourage you to apply early.
PUBLIC helps governments discover, develop and deliver technology-enabled public services that improve lives. Led by ex-deputy head of the No.10 policy unit, Daniel Korski, and venture investor, Alexander de Carvalho, PUBLIC's team has operational experience across government, startups, technology and finance. 
PUBLIC engages in a number of activities, all with the mission of bringing new technologies to public markets. We run a GovTech accelerator (GovStart) supporting 40+ startups a year in their public sector ambitions. We convene the premier conference in this market: The GovTech Summit - previously co-hosted with President Macron in Paris with over 2000 attendees. Our in-house consultancy team is working with governments in the UK and EU to harness GovTech solutions to transform public services and is quickly establishing itself as a leader in this field. We are uniquely placed given our understanding of Governments and knowledge of the start up ecosystem. We have produced market leading reports on various areas of PUBLIC sector technology, ranging from PoliceTech to HealthTech to TradeTech. We operate the only GovTech coworking space in Europe, PUBLIC Hall, situated in Whitehall. 
Find out more about PUBLIC at www.public.io
PUBLIC holds a respected and ever-growing stature within government, the tech and investment sectors - aided, in no small part, by our marketing and branding. Our content & media channels are followed by senior figures within the public sector and beyond. As Head of Communications, you will play a key role in driving PUBLIC's communications strategy forward, securing wide engagement for our programmes and for PUBLIC itself.
The role
The Head of Communications will develop and deliver PUBLIC's communications strategy, working closely with the Director of External Affairs. They will ensure that we use our marketing channels, content and press coverage to engage effectively and impactfully with our key audiences: the public sector, investment & technology industries, and tech startups. This will combine strategy, management and execution in a fast-paced and dynamic role. The Head of Communications will report to the Director of External Affairs, and will manage PUBLIC's Marketing and Communications Associate and the Public Affairs Intern. 
Person specification
We're enthusiastic about our mission and we're looking for someone who is as passionate as we are. We want someone who believes in our mission and wants to drive it forward with us.  This role will require someone who is driven and motivated and comes with new ideas and ways to support growth in the business. You will have experience in communications and marketing, ideally from a tech background. You will be interested in politics and have an understanding of how Government policy impacts our sector. There is huge scope for growth in this role and we value candidates who can demonstrate they are able to learn and grow with the role.
The core responsibilities of the Head of Communications role are below but you will have the opportunity to get involved in the wider work of the business too. 
Communications and Content Strategy
Developing and delivering ongoing comms and content strategy. 
Continue to develop the company narrative for the company and working with the Growth team to focus this on future areas for growth. 

Develop our market positioning, stakeholder mapping and build strategy, including awareness of PUBLIC's competition.

Developing PUBLIC's overall communications strategy and leading in its delivery.

Lead on development and delivery of a forward content plan and individual comms plans for key projects, such as research report launches, events and accelerator programme dates.

Support the Marketing and Communications Associate to produce regular analysis and analytics on PUBLIC's marketing & press performance across PUBLIC's work. 

Overseeing the curation of content for PUBLIC's blog, liaising with the wider PUBLIC teams.

Supporting the Marketing and Communications Associate in executing marketing strategies for PUBLIC's programmes & events - across email, social media, content management systems, etc and on website changes as necessary.

Managing the Marketing and Communications Associate and support them to deliver outstanding social media, newsletter & blog content across our marketing channels.
Press Functions
Ensuring PUBLIC has a regular presence in relevant press & media.
Leading on liaising with media & press to secure regular features & articles for PUBLIC in mainstream media and trade press.

Broaden PUBLIC's reach as an organisation and developing the external profile of the senior team. 

Build on content plan to draft, pitch and place OpEds and other media pieces, using your network to deliver. 

Creating and distributing press releases and materials to promote PUBLIC's events and programmes.

Work with the CEO on editing and placing wider pieces relevant to our agenda. 
Government Engagement Functions
Ensuring PUBLIC's marketing channels continue to grow and be engaged with by our key audiences.
Working with the Director of External Affairs and the Public Affairs Intern to ensure we have a strong presence with our Government customer and a strategy to market to them. 

Support the Public Affairs intern and the Director of External Affairs to develop and implement the public affairs strategy for the business, including working with the growth team to deliver.  
Essential Qualities:
Demonstrable experience managing communication campaigns for events, content, research publications or products.

Demonstrable experience in press in a tech environment and your own media contacts, ability to write and place opeds with minimal supervision and pitch innovative and thought leadership pieces to the media.

Experience of using political monitoring and turning that knowledge into strategy for the wider business, including how to market to Government. 

An understanding/experience of communications in delivering effective public affairs work, including relevant communications channels for government, public services and other stakeholders

Strong written English and excellent attention to detail.

The ability to work independently and manage a varied workload.

The ability to work as part of a team in a dynamic and fast-paced environment. 

Team management, with a strong focus on developing and maintaining talent in the team.
Desirable Qualities:
Strong sector knowledge of either: politics, public sector, technology, or startups or any of our priority verticals, particularly in health but also defence, energy and climate.

Hands-on experience with digital marketing (social media, SEO, email marketing software, growth hacking, etc.)

Experience with graphic and content design techniques and software.

Experience working in or with startups.

Experience working with the public sector or marketing to a public sector audience.

Experience managing external agencies in the delivery of effective communications outputs (PR/Marketing/Events agencies)
The Package:
25 days of holiday, increasing 1 day per year of service, plus bank holidays and the days between Christmas and New year.

Pension scheme

EMI share options scheme

Laptop and mobile phone allowance

Flexible working, with a homeworking equipment budget

6 paid days dedicated to L&D per year

Regular team socials
Removing bias from the hiring process
Your application will be blind reviewed by our hiring team to ensure fairness
You'll need a CV/résumé, but it'll only be considered if you score well on the blind review
Applications closed Sun 25th Apr 2021
Removing bias from the hiring process
Your application will be blind reviewed by our hiring team to ensure fairness
You'll need a CV/résumé, but it'll only be considered if you score well on the blind review