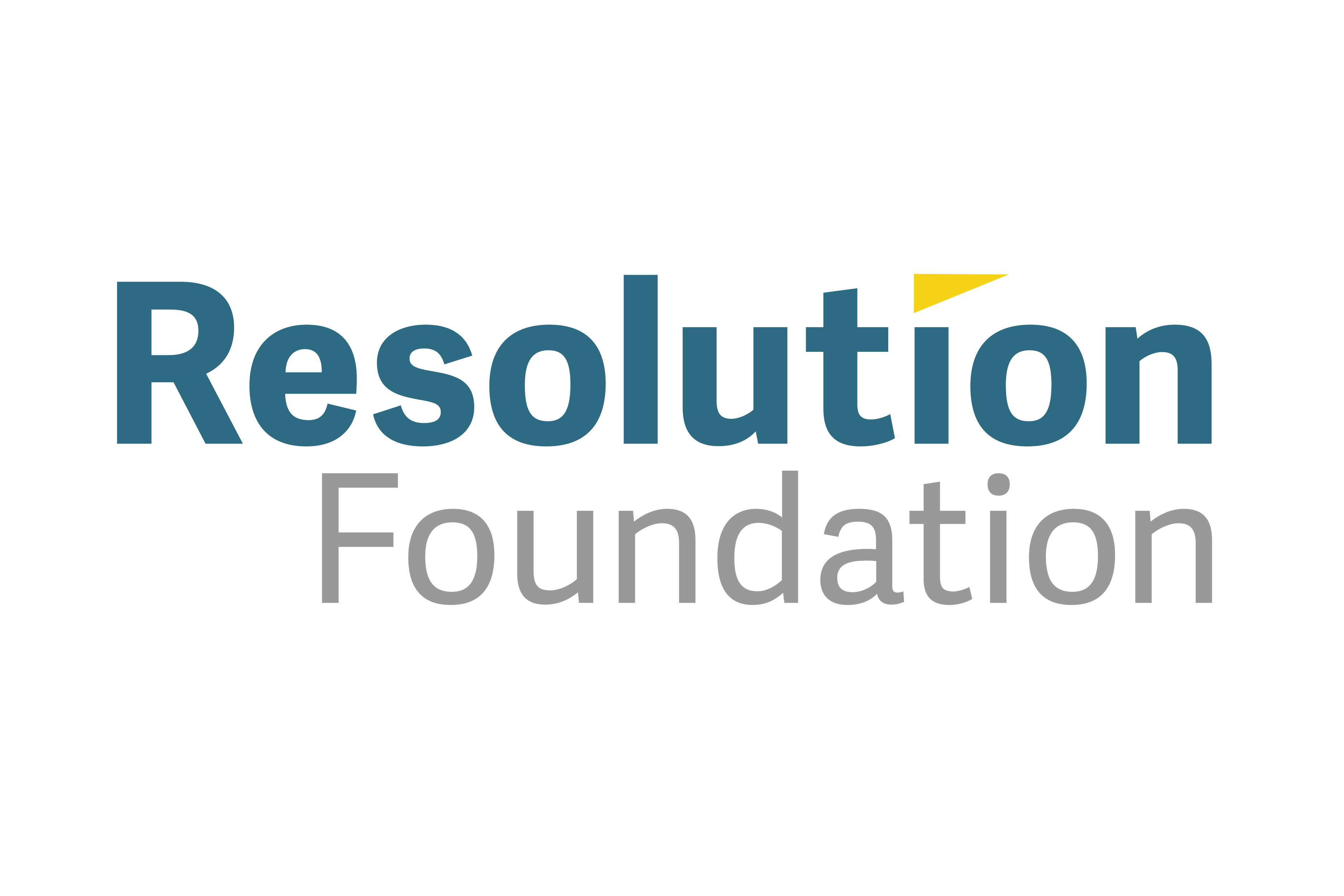 ESRC Internship Scheme
Resolution Foundation
Closing: 11:59pm, 3rd Oct 2022 BST
Job Description
The Resolution Foundation is delighted to partner with the ESRC to offer two research assistant placements via the ESRC's Internship Scheme. Please note: this position is only available to the ESRC's Doctoral Training Partnerships network.
Who are the interns going to work with?
The Resolution Foundation is an independent think-tank, founded in 2005, focused on improving the living standards of those on low-to-middle incomes. We work across a wide range of economic and social policy, combining our core purpose with a commitment to analytical rigour. These twin pillars of rigour and purpose underpin everything we do and make us the leading UK authority onsecuring widely-shared economic growth.
The Foundation's established work programme includes incomes and inequality; jobs, skills and pay; housing, wealth and debt; tax and welfare; public finances and the economy.
We inform public debate, alongside key decision makers in government, the private sector, and civil society. Alongside regular publications from our team on a range of policy issues, we hold a wide-ranging programme of events, hosting diverse speakers from academia, the voluntary sector and business, and regularly engage with politicians from across the political spectrum.
The research team is led by Dr Mike Brewer, who is also a visiting Professor at the London School of Economics. The rest of team have backgrounds in economics and other social sciences, and carry out quantitative and qualitative research and analysis, using a wide range of micro-data-sets and macroeconomic data sources.
Internship project
The internships will contribute to work under the Economy 2030 project.
Britain in the 2020s is a country that has, in many ways, become less dynamic over recent decades, and been struck by the interlinked challenges of weak productivity growth and stagnating living standards. The UK's many strengths must be harnessed to manage this change well. The Economy 2030 Inquiry is a collaboration between the Resolution Foundation (RF) and the Centre for Economic Performance (CEP) at the London School of Economics (LSE), and funded by the Nuffield Foundation, and aims to address this question of economic change. The Economy 2030 project is now moving from its analysis of the problems (summarised in https://economy2030.resolutionfoundation.org/reports/stagnation-nation/) to identifying policy recommendations.
During 2023, we anticipate producing reports providing policy recommendations on:
how to design fair taxes

how best to provide income insurance/replacement in the social security system

a new system of road pricing

new sectoral-based labour market institutions

policies to improve the human capital of workers

a new trade policy for the UK

a new monetary policy framework

how to encourage economic dynamism

how to obtain more high-productivity cities outside of London

how to deal with high housing costs in high productivity areas.
We will also be carrying out some deliberative work on some of these policy areas, and we will be commissioning quantitative and qualitative analysis of public attitudes.
For these papers, interns may be able to contribute by undertaking quantitative analysis, qualitative analysis (e.g. convening a focus group or interviewing stakeholders), literature reviews, or assessment of policy options. In all cases, the final output would be a high-profile policy-focused RF report.
How is the intern expected to spend their day?
Each intern will have a mentor, who is part of the research team, and who will act as their key point of contact during the internship.
Development opportunities:
Data handling and analysis:
The internship is likely to involve being involved in both short and long-form analytical work. By working on short-form outputs, such as various statistics reactions, they will download, sense check, quickly analyse, and visually present economic and social figures. Working on longer-term outputs, such as briefing notes and spotlight articles, interns will clean, reshape and analyse data - using statistical packages like STATA or R. They will perform descriptive statistical analysis and, depending on their research question, more advanced econometric techniques.
Communicating research:
Written communication: the opportunity to draft both short outputs, such as blogs/ spotlights and longer outputs, like briefing notes. In both formats, they will gain experience in transforming their research findings into a clear narrative structure underpinned by crisp drafting.

Visualising research: gain experience in transforming quantitative findings into clear and striking charts.

Formal presentations: present their findings to the research team, building both confidence in presenting and an understanding of how to structure a clear story that keeps the audience engaged.

Communicating with the media: through in-house media training and taking part in statistical reactions (e.g. labour market statistics, prices/inflation figures), interns will get a sense of how to transform complex results into a clear, interesting story.
Policy reviews and analysis:
Interns may be asked to review and critically analyse relevant policies, or tasked with drafting brief literature reviews and policy briefs, in order to understand where there are gaps in the evidence and whether/where public policy has been effective in addressing the specific research topic at hand.
Network development:
Interns will also get a sense of how to build networks in think tanks/policymaking circles, including through engaging with friendly Foundation contacts and accompanying the team to formal meetings and roundtables.
Specific training sessions include:
Statistical software (STATA) training (if needed): A member of the research team will provide the trainee with three to four STATA sessions, teaching them to interpret and write their own code.

Econometrics (if needed): depending on the trainee's experience/interest, they will be provided with session(s) allowing them to understand and put into practice concepts ranging from statistical significance testing to more advanced forms of regression analysis.

Excel tips and chart-building (if needed): a session focused on Excel shortcuts and how to create clear but visually striking charts and tables.

Drafting and narrative building: a minimum of two sessions wherein the trainee learns to transform research findings into a short article/longer report structure using crisp, clear prose. This includes practice sessions, where the trainee writes and receives detailed feedback on anumber of mock-blog posts.

Media training: the Foundation's communications team will run trainees through a media training session - teaching them the basics of how newspaper and broadcasters tend to use our research and how to prepare for media interviews.
Wider learning opportunities:
Access to RF's Masterclass series, where members of staff and / or external guests runinformational sessions on a number of research topics.
About You
Essential requirements:
• Quantitative research skills
• Experience with statistical software packages e.g. Stata and R
• A commitment to the Resolution Foundation's core mission
Desirable characteristics:
• Qualitative research skills, and experience of using a range of techniques
• Experience with key UK household data-sets, including the LFS, the FRS/HBAI, the EHS,
Understanding Society, or other micro-data-sets such as ASHE.
• Comparative social and economic policy knowledge
Closing date: 3 October 2022
Removing bias from the hiring process
Applications closed Mon 3rd Oct 2022
Removing bias from the hiring process
Your application will be anonymously reviewed by our hiring team to ensure fairness
You'll need a CV/résumé, but it'll only be considered if you score well on the anonymous review
Applications closed Mon 3rd Oct 2022