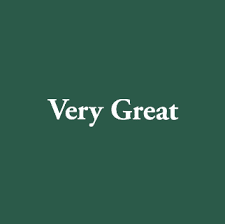 Freelance Digital Designer
Very Great
Closing: This role has no specific closing date.
Role posted - 2:27pm, 12th Aug 2022 EDT
Job Description
About Us
Very Great is a digitally-native consumer product platform and holding company, growing a family of real, crave-worthy brands for a new generation. Based in New York City, Very Great is powered by a technology-enabled growth infrastructure that spans supply chain, creative, marketing and sales, all designed to rapidly develop, launch and scale modern consumer product brands. The current family of brands includes W&P, Courant and Wild One, with future brand launches currently under development.
About the Role
Our Freelance Marketing Designer will execute digital projects across multiple platforms including ads, email, paid social, and more. This individual will be responsible for creating digital communications that align with each brand's style and business goals in order to provide an engaging experience that is beautifully designed and drives business. You will apply your knowledge of digital platforms and graphic design to bring each brand's aesthetic to life. You understand performance insights and are motivated by results. 
The number of hours worked in this role will be dependent on the number of creative briefs received, but could range from 20 hours a month to 20 hours a week.  Once we have met with the applicant, we will determine what projects best fit their skill set and schedule, and write a contract accordingly.  The bulk of this work will take place between September and November 2022, but could lead to future opportunities with our team.
Responsibilities
Execute digital emails, ads and paid social projects across 3 brands (W&P, Courant and Wild One) to achieve performance marketing goals

Build or adapt files for digital deliverables to be designed within several brand identities

Create content as part of campaigns that may include both static and animated media

Retouch, color correct, edit and format imagery to work with a variety of email and ad needs
About You
Experience building digital assets across web, paid social, and email marketing

4+ years of experience working in creative advertising at a start-up or growth organization

Receptive to feedback and able to apply a new direction while maintaining a positive attitude

Proficient in Adobe CC tools, must have experience working in After Effects, Photoshop, and Illustrator

Well-versed and aware of how deliverables like websites, emails, social posts, animations, video, and gifs come to life and monitor trends and evolutions across these platforms
Removing bias from the hiring process
Your application will be anonymously reviewed by our hiring team to ensure fairness
You'll need a CV/résumé, but it'll only be considered if you score well on the anonymous review
Removing bias from the hiring process
Your application will be anonymously reviewed by our hiring team to ensure fairness
You'll need a CV/résumé, but it'll only be considered if you score well on the anonymous review