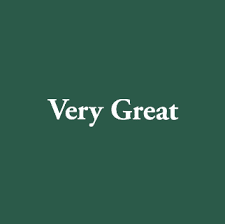 VP of Marketing
Very Great
Team: Very Great
Closing: This role has no specific closing date.
Role posted - 6:47pm, 6th Sep 2022 EDT
Job Description
About Us
Very Great is a digitally-native consumer product platform and holding company, growing a family of real, crave-worthy brands for a new generation. Based in New York City, Very Great is powered by a technology-enabled growth infrastructure that spans supply chain, creative, marketing and sales, all designed to rapidly develop, launch and scale modern consumer product brands. The current family of brands includes W&P, Courant and Wild One, with future brand launches currently under development.
About the Role
As the VP of Marketing of our soon-to-launch wellness brand, you will be developing and driving our comprehensive omnichannel marketing strategy across owned and performance channels, with the goal of launching and then scaling our new, digitally-native wellness CPG brand. This brand will mark the establishment of the fourth brand in the highly successful Very Great portfolio. This is an exciting, career-defining opportunity to get involved at the ground level and help launch and scale a new highly differentiated wellness CPG brand aimed at Millennial consumers. 
This role will develop and lead our marketing strategy in a way that aligns our brand's core values and meets our business objectives across all marketing and sales channels. Our ideal candidate is a practiced leader who can balance the execution and strategic elements of our short and long term objectives. You are passionate, curious, a talent nurturer, and an effective collaborator, and loves building new brands, developing community and thrives in a startup environment.
This role reports to the Founder and CEO and can be based anywhere in the US.
Responsibilities
Develop and lead our go-to-market strategy; develop brand positioning in this competitive market, drive awareness, customer acquisition and revenue with a strong focus on building a subscription-first customer base. (Includes all paid media channels, performance creative, email marketing campaigns, affiliate strategy, SMS, creating customer flows, SEO, UI/UX, etc.)

Responsible for compiling, analyzing and leveraging performance data and in-depth consumer insights to identify optimization and new opportunities for growth. Report key data insights to the CEO to optimize brand strategy and tactics.

Define, measure and report KPIs and performance of all paid marketing channels, affiliate, influencer channels and SEO and assess against performance goals, while executing robust optimization and A/B testing programs. 

Drive strategy and execution for our customer loyalty, lifecycle and retention efforts, with a strong focus on developing LTV growth strategy for new customers to manage future subscription churn, with an emphasis on building ways to retain customers before they cancel a subscription.
Develop and manage customer segmentation strategy ensuring we reach the right audience with the right message, at the right place and time. 
Create and execute integrated marketing campaigns, programs and strategies that will acquire, engage, and retain customers across all sales channels including e-commerce, wholesale and Amazon.

Cultivate a best-in-class e-commerce experience through design, content and web development.

Manage external agency partners and the overall marketing budget 
About You
7+ years of marketing leadership experience in a high growth, omnichannel consumer product DTC brand, with a focus on subscription based products

Possess a well rounded toolkit of tried-and-true marketing tools, strategies, and tactics, and how best to apply them to an emerging brand, but also on the cutting edge of new marketing strategies

Strategic & practical with the ability to develop and bring to life, brand building ideas that are consistent with our overarching brand story 

Experience actively managing digital ad buying and serving tools including Facebook Ads Manager, Google Ads/Youtube, Pinterest Ads, TikTok Ads, Snapchat Ads, programmatic display

Has worked with Google Analytics and additional data tools (Looker preferred, or Tableau, Domo, Power BI or others)

Experience working alongside CRM and website managers; CRM (email/SMS) experience highly preferred but not required

In-depth experience with online marketing channels (paid search, email, online marketing) and data analytics including  search, web, and other applicable areas 

Enjoy building teams and coaching/mentoring talent and growing careers 

Desire to work in a rapidly changing, start-up CPG environment that requires both long-term strategic thinking and near-term execution 

Passionate about wellness, building community and creating a meaningful brand with a strong mission
Removing bias from the hiring process
Your application will be anonymously reviewed by our hiring team to ensure fairness
You'll need a CV/résumé, but it'll only be considered if you score well on the anonymous review
Removing bias from the hiring process
Your application will be anonymously reviewed by our hiring team to ensure fairness
You'll need a CV/résumé, but it'll only be considered if you score well on the anonymous review