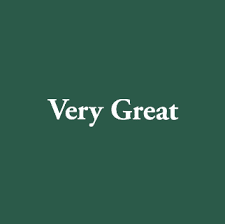 Senior Data Analyst, eCommerce
Very Great
Closing: 1:51pm, 14th Aug 2022 EDT
Job Description
About Us
Very Great is a digitally-native consumer product platform and holding company, growing a family of real, crave-worthy brands for a new generation. Based in New York City, Very Great is powered by a technology-enabled growth infrastructure that spans supply chain, creative, marketing and sales, all designed to rapidly develop, launch and scale modern consumer product brands. The current family of brands includes W&P, Courant and Wild One, with future brand launches currently under development.
About the Role
Very Great is seeking a Senior Data Analyst to own marketing and ecommerce analysis for the Very Great Brands (Wild One, W&P, and Courant) while helping to shape the future of data and analytics at the company. They will play a critical role in creating reporting and analysis focused on ecommerce data to drive key decision making with brand teams. 
The ideal candidate is capable of diving deep into ecommerce data (marketing, customer, product sales, web performance) to help solve business challenges. Goals include lowering acquisition costs, improving conversion rate, and improving retention. They will need to be able to sort through data quickly to identify a story, and craft analysis and recommendation(s) from data sets. Strong prioritization skills and natural curiosity are essential to success in this role, along with great communication and interpersonal skills. Additionally, the analyst will assist in managing external vendor resources and relationships (Daasity, Looker, other tools). 
Very Great is based in NYC, but this position can be fully remote (US based). This role reports to the VP of Growth at Very Great. 
Responsibilities
Help to maintain and analyze data sets across Very Great's portfolio of brands

Build, own, and manage interactive eCommerce dashboards with a focus on digital analytics

Identify, locate, and wrangle data to deliver analyses which answer stakeholders' questions

Develop reports and dashboards that track success metrics for A/B, MVT tests, and data science models

Use strong interpersonal skills to work closely with counterparts on brand teams, identifying key data inputs and views necessary to leverage data and make decisions

Maintain ongoing data integrity from all sources, be internal champion of data integrity and the power of data-driven decision making

Assist VP of Growth in managing external vendor resources (Daasity, Looker) 

Assist in standardizing data capture and nomenclature across all existing brands to ensure clean data sets

Work with VP of Growth and brand teams to implement processes that put data-driven strategy first

Work with brand, finance, and growth teams to help create data-driven business forecasts

Help define and track goals and KPIs across ecommerce and marketing efforts

Proactively look for opportunities to improve organization with data and analysis
About You
Bachelor's degree preferred and 4+ years of experience in a data team role. 

Experience with DTC or eCommerce companies, agency or multi-brand companies. Experience with consumer goods business preferred.

1+ years experience with Looker, familiarity with data warehouse platforms, intermediate to advanced SQL skills required

Experience with Google Analytics and Shopify Plus

Thrives in collaborative environments and enjoys proposing new ideas

Strong interpersonal skills and ability to communicate clearly and efficiently with people who don't have a data background

Experience with CDP or CRM platforms is a plus but not required

Proven track record of using data to create solutions to challenges or improve results

Has worked with data from Amazon or other marketplaces - not required but strongly preferred

Holds strong opinions on data collection, sorting, and usage

Stays up to date on industry trends and shifts in data in the ecommerce/web industry
Removing bias from the hiring process
Your application will be anonymously reviewed by our hiring team to ensure fairness
You'll need a CV/résumé, but it'll only be considered if you score well on the anonymous review
Applications closed Sun 14th Aug 2022
Removing bias from the hiring process
Your application will be anonymously reviewed by our hiring team to ensure fairness
You'll need a CV/résumé, but it'll only be considered if you score well on the anonymous review
Applications closed Sun 14th Aug 2022