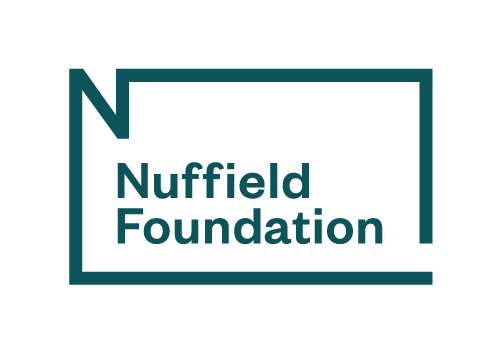 Researcher - Public Engagement
Nuffield Foundation
Team: Ada Lovelace Institute
Salary: £34,433 per annum FTE (dependent upon experience). 1 year FTC, full time (35hrs per week) - part time arrangements considered.
Location:

We're London based but open to remote working from within the UK

Closing: 12:00pm, 2nd Feb 2021 GMT
Role posted - 12:26pm, 13th Jan 2021 GMT
Job Description
The role of Researcher, Public Engagement, provides an excellent opportunity for an individual passionate about ensuring a range of diverse voices and perspectives can influence and inform issues of technology, social inequalities, and justice.
This position is a new one for Ada, and the primary responsibilities will be to help develop and execute Ada's public engagement work, particularly across health and social inequalities. This will include working with a Senior Researcher to manage research partnerships with a range of external organisations. This initiative will involve several key engagement deliverables, including the analysis and delivery of: 
Citizen juries 

Community engagement and outreach workshops 

Quantitative public attitudes work
The Researcher will also be tasked with staying abreast of developments in the field, looking for strategic moments of intervention using public engagement and research methodologies, and developing partnerships. 
This is a unique and exciting opportunity to join a dynamic and energetic organisation working at the intersection of technology and society on some of the most pressing social policy and technical challenges. 
About you  
You may have a background working in the tech industry, or researching and co-ordinating in an academic organisation, research institute or community charity. You may have a university degree, or have gained experience from an apprenticeship or trainee programme at a research, policy or other civil-society organisation. You are curious and passionate about the issues which arise at the intersection of technology and society, and committed to bringing an interdisciplinary and intersectional lens to understanding them. Importantly, you'll be comfortable taking initiative, working independently and to short deadlines at times. You'll enjoy working in a team environment, willing to jump into projects and keen to explore areas of policy, technology and practice that you don't already understand. You'll appreciate the importance of exceptionally high standards of rigour in research, but also want to think creatively about communicating and influencing in novel ways. 
You will have experience in engaging with people and communities to understand their perspectives and help their voice influence research, policy or technology design in practice. This could involve coordinating community workshops, leading qualitative focus groups, designing quantitative surveys, citizen juries, co-design, participatory research or any other kind of activity that involves laypeople in informing and influencing research outcomes. We are open to different forms of experience and interested in hearing how you define community and public engagement. 
For further information about the role, please click here to download the full job description and a description of the day in the life of a Researcher.  
Further information and how to apply 
The closing date for applications is 12:00 noon on Tuesday 2 February 2021, with interviews taking place via video on the 10th and/or 11th February 2021. We hope to invite an external reviewer to join the interview panel and ensure diversity of perspectives in the process.   
If you are from a background that is underrepresented in the sector (for example you are from a marginalised community, did not go to university or had free school meals as a child), and you would like to discuss how your experience may be transferable to this role, you can book time with one of our team who will be pleased to have a chat with you. Please note that this person will not be involved in the recruitment process. You can request this by emailing hello@adalovelaceinstitute.org (and we will not ask you to disclose your background).   
The Ada Lovelace Institute 
The Ada Lovelace Institute is an independent research institute and deliberative body funded and incubated by the Nuffield Foundation in 2018. Our mission is to ensure data and artificial intelligence work for people and society. We do this by building evidence and fostering rigorous debate on how data and AI affect people and society.  We recognise the power asymmetries that exist in ethical and legal debates around the development of data-driven technologies and seek to level those asymmetries by convening diverse voices and creating a shared understanding of the ethical issues arising from data and AI. Finally, we seek to define and inform good practice in the design and deployment of AI technologies.   
After little more than a year of operation, the Institute has emerged as a leading independent voice on the ethical and societal impacts of data and AI. We have built relationships in the public, private and civil society sectors in the UK and internationally. Some of our most impactful work to date includes our rapid evidence review on contact tracing apps, Exit Through the App Store?, and our public attitudes survey on facial recognition, Beyond Face Value.   
Our research takes an interconnected approach to issues such as power, social justice, distributional impact and climate change (read our strategy to find out more), and our team have a wide range of expertise that cuts across policy, technology, academia, industry, law and human rights.  We value diversity in background, skills, perspectives, and life experiences. Because we are part of the Nuffield Foundation, we are a small team with the practical support of an established organisation that cares for its employees.    
We aim to be a collaborative, welcome and informal place to work. Before Covid-19 the team worked flexibly, with some working from home regularly or on an ad hoc basis. We now operate fully remotely, using collaborative working tools such as Microsoft Teams with regular video calls). We are currently a 12-person team and expect to return to some in-person working in 2021 (and will have a shiny new office in early 2021), but we are open to staff working remotely for the foreseeable future, including in UK geographical locations outside of London.   
Removing bias from the hiring process
Your application will be anonymously reviewed by our hiring team to ensure fairness
You'll need a CV/résumé, but it'll only be considered if you score well on the anonymous review
Applications closed Tue 2nd Feb 2021
Removing bias from the hiring process
Your application will be anonymously reviewed by our hiring team to ensure fairness
You'll need a CV/résumé, but it'll only be considered if you score well on the anonymous review