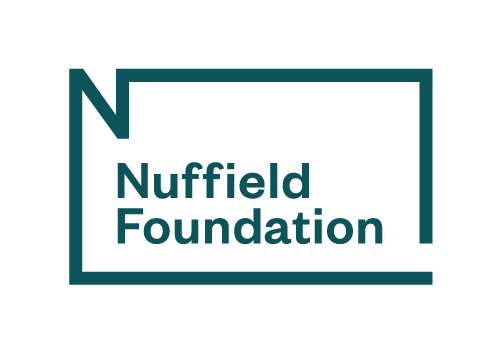 Associate Director, External Affairs – Nuffield Council on Bioethics
Nuffield Foundation
Team: Nuffield Council on Bioethics
Salary: Salary starting from £70,000pa. Full-time (35 hours), part time arrangements considered.
Location:

Our offices are in London (Farringdon), with the ability to work from home for part of the week

Closing: 9:30am, 3rd Feb 2023 GMT
Job Description
The Nuffield Council on Bioethics is recruiting to the new role of Associate Director, External Affairs. The successful candidate will play a key role in the delivery of our ambitious new strategy. 
The role
Our new strategy places ethics at the centre of decisions, so we all benefit. We will build on our excellent reputation, both in the UK and internationally, for multidisciplinary research and deliberation, whilst ensuring we are targeting our work to decision-makers and embedding ethics in policy making. A greater focus on horizon scanning will allow us to anticipate ethical challenges emerging from developments in bioscience and medicine and set the policy agenda.  
In the role of Associate Director, External Affairs, you will be responsible for the creation and delivery of an organisation-wide external engagement strategy to raise the profile and credibility of bioethics amongst decision-makers, including our approach to public affairs, media, digital engagement and stakeholder management.  
You will be responsible for maintaining a cross-organisational oversight of external positioning with a view to promoting a joined-up approach to influencing and will ensure the quality assurance of NCOB media, public affairs and wider public relations outputs. You will also be responsible for the development, delivery and oversight of stakeholder engagement across Government, parliament, Whitehall, ALBs, Accademia and wider policy and research sectors and for developing a programme of activity to deliver on our new strategic aim to build greater connections across bioethics networks to strengthen the voice of bioethics in policy and public debate. 
As a member of the Council's senior leadership team, you will think strategically about our external positioning and make decisions that ensure the effective and sustainable growth of the organisation, as well as supporting the Director in executing their responsibilities related to governance, fundraising, staff management, Board reporting and financial and strategic management. 
About you
You will have experience of leading an interdisciplinary external relations function, and will have experience of successfully developing and implementing engagement strategies that have enhanced the profile, reach and credibility of an organisation. 
You will be ambitious in what you want to accomplish for the organisation and be motivated by the challenge of increasing the impact of the Council. You will have excellent stakeholder management experience, with a track record of building coalitions and partnerships with senior academics, politicians, policy makers and/or other NGOs in order to achieve policy change.
For further information about the role, please click here to download the full job description. 
About us
The Nuffield Council on Bioethics is an independent body that examines and reports on ethical issues in biology and medicine. We have achieved an international reputation for advising policy makers and stimulating debate in bioethics.
We have published widely on a wide range of bioethics issues, including genome editing in farmed animals, gene editing in human reproduction, children and clinical research, organ donation, cosmetic procedures, non-invasive prenatal testing and research in global health emergencies. Our work includes a variety of projects including in-depth inquiries, horizon scanning, and an active response programme, which includes rapid policy briefings, workshops and roundtables.
The Nuffield Council on Bioethics is funded jointly by the Nuffield Foundation, Wellcome and the Medical Research Council.
Find out more at: www.nuffieldbioethics.org
More information and how to apply
The closing date for applications is 09:30am (GMT) on Friday 3rd February 2023 with a first stage of interviews scheduled to take place on Wednesday 22nd February 2023. 
Should you need to make an application in a different format or require any adjustments as part of the application process, please get in touch with us: recruitment@nuffieldfoundation.org
Our benefits package includes:
28 days holiday per annum and all public holidays (with the option to buy or sell up to 5 days).

Pension scheme that offers employer contributions of up to 11%.

Life assurance scheme.

We offer family leave policies that provide an enhanced level of pay

Cycle to work scheme and loans towards season tickets.

Support with your learning and development

Wellbeing support including an employee assistance provider.
Removing bias from the hiring process
Your application will be anonymously reviewed by our hiring team to ensure fairness
You'll need a CV/résumé, but it'll only be considered if you score well on the anonymous review
Removing bias from the hiring process
Your application will be anonymously reviewed by our hiring team to ensure fairness
You'll need a CV/résumé, but it'll only be considered if you score well on the anonymous review